Homeless get own Web Page, although access is a problem
By LORRIE COHEN
Citizen Business Writer
Open the Internet site, and there are glowing accolades about the weather, a list of places to stay, tips for new arrivals and a section about things to do in Tucson. A city promotion? A new tourist bureau guide? Nope. It's a new Web page for homeless people.
The site goes on to describe rules for panhandling in Tucson, what times people should check into the various shelters and where they can get free meals. A joke?
Not at all, said Mike Davidson, a 56-year -old University of Arizona student and Vietnam War veteran who used to hold up a sign at South Mission Road and West Ajo Way that read "Will work for food."
"I have a lot of personal thoughts about homeless people, and I think that one of the solutions is to help people find their own way out, but with help," said Davidson, who activated the site Oct. 22 [1997].
Obviously, he doesn't expect a homeless person to whip out a laptop and surf the 'Net between stints on the corner selling newspapers. The site, he said, may help a small group of people who are temporarily homeless, not those who chose that kind of life or those who have substance abuse or severe mental problems
One of the most important links is information about financial aid for education, which is what helped Davidson get off the street and into school.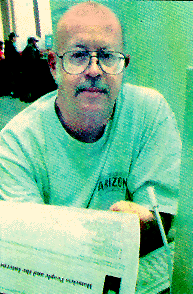 XAVIER GALLEGOS/Tucson Citizen
Mike Davidson
Davidson has also created a national Web site called Homeless People and the Internet. It comes complete with a photo of a dancing man holding a "Will work for food" sign.
That is a universal symbol of homelessness," Davidson said. "No matter what, it will attract attention."